Coming Soon:
I'm currently re-editing The Jessica Tyson Mystery Series for new publisher. Covers will be new and stories updated.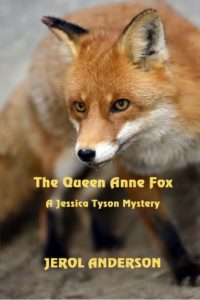 The Queen Anne Fox reprint will have this                   cover. I'll announce the release here and on           FB.
Gone Missing in the Underground is with the publisher and I'm in the process of re-editing Emma's Garden.
When I first wrote these three books, it was so much fun for me to re-visit the location of each setting. Surprisingly, I found it just as much fun visiting again while editing during these past few months.
The 4th in the series A Cozumel Caper is in creation. Jessica travels to the island of Cozumel in search of a missing Seattle pilot whose plane went down in the Gulf of Mexico.
Sisters in Crime Police Academy 2017
We attended the Sisters in Crime Police Academy in Green Bay Wisconsin. Four days of seminars and inter-active classes for writers to learn the real life actions and terminology of police officers. As we took part in classes on ammunition, blood spatter, shoot/don't shoot, drunk driving arrest, and more, we gained an even greater amount of respect for the terrific job our officers in blue do each day.
So much emphasis is put on verbal communication, respect, and extra precaution. Not that we needed a reminder in these tumultuous times, but the one repeated line during each class — "We want each of our officers to return home at the end of his/her shift."
The four days of long hours were educational and fun. We met many writers including my current most favorite: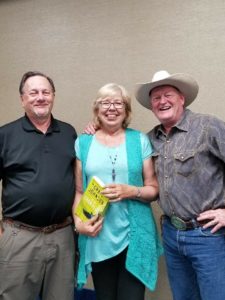 Craig Johnson with Doug and me.
I also learned that I need more comedy in my writing. Isn't it really what keeps our life in balance? While the subject matter and demonstrations were serious stuff, the entertaining personalities of Tami Hoag, Lee Loffland and other presenters added comic relief during the evening programs.
Click on CONTACT above and send a message with comments on my stories or add gardening tips and photos.
Insert your email in SUBSCRIBE to BLOG above to enter the drawing –  WIN A FREE COPY OF   A LAKE KOSHKONONG TALE.