This re-writing and re-publishing of my novels for a new publisher has been a big job..
Fun job, but BIG!
I think the big part is self-explanatory, but the fun part has been my freedom to revisit the lives of characters I have already created and travel with them through their trials and successes. Grounding the story, if you will, with more depth and reality.
More proof that a writer must rewrite, rewrite, and rewrite.
If you haven't already read A Queen Anne Fox, the first of The Jessica Tyson Mystery Series, I hope you will take a chance to read it and let me know what you think.
If you've already read it, perhaps you'd like to procure a copy for a friend.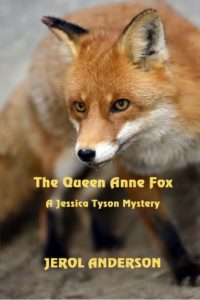 New 2nd edition of The Queen Anne Fox
Please note you can order books directly from me by simply sending a request and check to:
Jerol Anderson
PO Box 339
Cambridge, WI 53523
$17.99 includes shipping and taxes
ALREADY IN THE WORKS FOR 2018:
2nd edition of the second and third books of The Jessica Tyson Mystery Series
Gone Missing in the Underground
Emma's Garden
2nd edition of
Is It Safe?
Stand alone novel of woman's escape into the Witness Protection Program
See  Books in Progress for more possible releases
Any questions, please go to CONTACT at the top of the page and send me an email.